Combined data from five implantable cardioverter-defibrillator (ICD) trials suggest that it is the underlying arrhythmic disorder, rather than the ICD therapy itself, that affects mortality in these patients.
Analysis of the MADIT II, MADIT-RISK, MADIT-CRT, MADIT-RIT, and RAID trials showed that the major determinant of mortality in patients receiving a primary prevention ICD was the arrhythmic substrate that leads to occurrence of fast ventricular tachycardia (VT), defined as ≥ 200 bpm, or ventricular fibrillation (VF), not adverse effects of the ICD shock therapy itself.
Patients experiencing an episode of VT had more than a 2-fold increased risk for death during a follow-up of 2 and a half years; however, ICD therapies for VT less than 200 bpm and inappropriate ICD shocks were not associated with a higher risk for death.
The findings are published online May 17 in the Journal of the American College of Cardiology.
"We know that patients receiving an ICD shock have increased mortality during subsequent follow-up," first author Mehmet K. Aktas, MD, MBA, University of Rochester Medical Center, Rochester, New York, told theheart.org | Medscape Cardiology.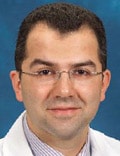 "There are conflicting data on the impact of ICD shocks on subsequent mortality, and in this study, we aimed to determine whether shocks per se increase subsequent mortality risk or whether the arrhythmic substrate that leads to ICD therapy results in subsequent risk of death," Aktas said.
He and his team evaluated the association of ICD therapy with subsequent mortality according to the type of ICD therapy (model I), type of arrhythmia for which ICD therapy was delivered (model II), combined assessment of all arrhythmia and therapy types during follow-up (model III), and incremental risk associated with repeated ICD shocks (model IV).
The study cohort included 5516 patients. Of these, 1001 patients (18%) received appropriate ICD therapy and 561 (10%) received inappropriate ICD therapy during an average of 2.4 years.
Patients receiving an appropriate ICD therapy were more likely to be male and to have prior atrial arrhythmia and nonsustained VT compared with those without ICD therapy.
Patients receiving an inappropriate shock were more likely to be younger, African American, and less likely to have prior nonsustained VT compared with those without ICD therapy.
Most patients (90%) were receiving beta-blockers and angiotensin-converting enzyme inhibitors or angiotensin receptor blockers regardless of device therapy during follow-up, and 10% of patients were treated with amiodarone.
In model I, at 3 years, the cumulative probability of death following an appropriate ICD shock was 38% compared with no appropriate ICD shock (P < .001). Inappropriate shock alone was not associated with mortality risk.
In model II, which looked at the type of arrhythmia for which ICD therapy was delivered, the cumulative death rate at 3 years following the first occurrence of ICD therapy for VT ≥ 200 beats/min or VF was 27%, compared with 10% in patients not experiencing VT ≥ 200 beats/min or VF (P < .001).
In model III, the highest risk for death was observed following shocks delivered after a failed antitachycardia pacing (ATP) for fast VT (hazard ratio [HR], 3.05), followed by ICD shock for VF (HR, 2.86), ICD shock for fast VT without a prior ATP (HR, 2.83), and ICD shock for slower VT (< 200 beats/min) without a prior ATP (HR, 2.39).
In contrast, other types of appropriate and inappropriate shock or ATP therapies were not associated with a significant risk increase.
In model IV, which assessed the association of shock therapy counts with the risk for death, two or more ICD appropriate shocks were not associated with increased risk after the first appropriate ICD shock.
"Our findings shed light on the mechanisms associated with increased mortality risk in primary prevention ICD recipients," Aktas said.
"Studies that evaluate interventions focused on treating and stabilizing the myocardial substrate which promotes ventricular tachyarrhythmias such as catheter ablation are needed to improve survival in heart failure patients," he added.
Thoughtful Study Design
In an accompanying editorial, Rajat Deo, MD, MTR, and Naga Venkata K. Pothineni, MD, both from the Perelman School of Medicine at the University of Pennsylvania, Philadelphia, praised the researchers for their "thoughtful study design."
"The take-home message that is most relevant to our clinical practice is clear: sustained ventricular arrhythmias are a prognostic marker of death and heart failure hospitalization," they write.
The editorialists also comment on the higher rate of inappropriate ICD therapies in African Americans.
"It is concerning to observe that Black patients had a markedly higher rate of inappropriate ICD therapies compared with White patients — and this was in the setting of some of the most respectable, established, and well-funded clinical trials," they write.
Reasons for disparities in outcomes include access to appropriate and affordable medical therapies, access to specialty clinics and caregivers, remote ICD monitoring, and compliance issues.
"Future work will need to understand how the social determinants of health including race affect the treatment and outcomes of our primary prevention ICD population," they write.
Identifying and characterizing the arrhythmic substrate will become a key component of sudden cardiac death risk stratification, the editorialists predict.
"Concurrently, we must continue to partner with industry colleagues and work with our professional societies to ensure health equity across our patient population," they conclude.
J Am Coll Cardiol. 2021;77:2453-2462, 2463-2465. Article, Editorial
Aktas has received research grants from Boston Scientific and Medtronic. Deo and his coeditorialists report no relevant financial relationships. The MADIT trials were funded by an unrestricted research grant from Boston Scientific to the University of Rochester Medical Center. The RAID trial was funded by the National Institutes of Health.
For more news, follow Medscape on Facebook, Twitter, Instagram, YouTube, and LinkedIn.